This company is registered in England. 2009.
Please note; most artists working in Pureink  premises are self employed regular guest artists.
Pureink studios offer a Newer and Higher Standard to the tattoo industry and its clientele. With our comfortable atmosphere and our kind and experienced staffing. we are eager to point you in the right direction towards achieving the tattoo of your desires. The artists specialize in all ranges and styles of tattooing.Whatever you are looking for, we can handle! We also specialize in custom designing. We use only the best. From equipment, to up-to-date health practices.Not only a quality tattoo, but a better experience. ….. We look forward to meeting you.
Our process is as simple as the below, your idea will be priced up  accordingly from there we will sketch the idea and if everything is good to go then the tattooing will start.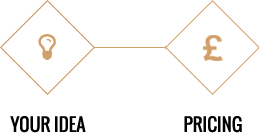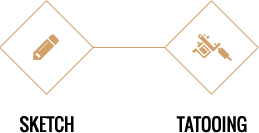 Drop us a message here at Pureink and let us know you are thinking about your next tattoo, please make sure you select the correction location. No appointment is secure until confirmation from the studio. Deposits are non-refundable.